kó is pleased to present Nigerian artist Obiora Udechukwu at Frieze Masters London, October 13-17, 2021.


This presentation features a selection of oil paintings, acrylics, watercolours and drawings by Obiora Udechukwu from the 1960s-1990s. The project is included in Frieze Masters' Spotlight, featuring pioneering artists of the twentieth century.

Obiora Udechukwu (b. 1946) is one of Nigeria's most influential artists and poets and a leading figure of Nigeria's Nsukka school. His artistic career began in the late 1960s at the dawn of the Nigerian Civil War. Part of the second wave of modern artists at Nigerian universities after independence, Udechukwu studied art at the University of Nigeria, Nsukka in Southeastern Nigeria. An important center for art education, The Nsukka school is best known for the revival of uli, an Igbo art tradition that was historically used for body art and wall murals. Udechukwu's intimate association with the Nsukka art department, where he taught art for many years until his migration to the United States in the mid-1990s, foregrounds his modernist explorations of uli as a potent resource in studio practice.

This presentation includes several paintings that are representative of Udechukwu's war time experiences, in which his work was heavily impacted by the trauma and turmoil of conflict. In Silent Faces at the Crossroads (1967), feelings of a collective fear, uncertainty, gloom, and foreboding about the impending war are discerned in the downcast faces of a train of people, probably easterners, fleeing from a city in northern Nigeria. Several drawings, including The Preacher, Mourners and Gidan Tailor (all produced in 1976) underline the sophistication of Udechukwu's uli-inspired art, with the use of bold and thin lines and the visual anchorage achieved through the intermediacy of ink washes. Two acrylic paintings, Enigmatic Figure (1992) and Isinwoji (1993), underline the period in Udechukwu's art career when colour returned to his studio practice in a profound manner.

Obiora Udechukwu's art is a reflection of his diverse response to events, encounters and experiences that have shaped his life, Tradition, history, memory and sensitivity to the human condition constitute his core thematic elements. These are communicated through the poetic lyricism of traveling lines, the evocative ambience of well orchestrated colours, and the expressivity of the the formal codes of indigenous cultural resources.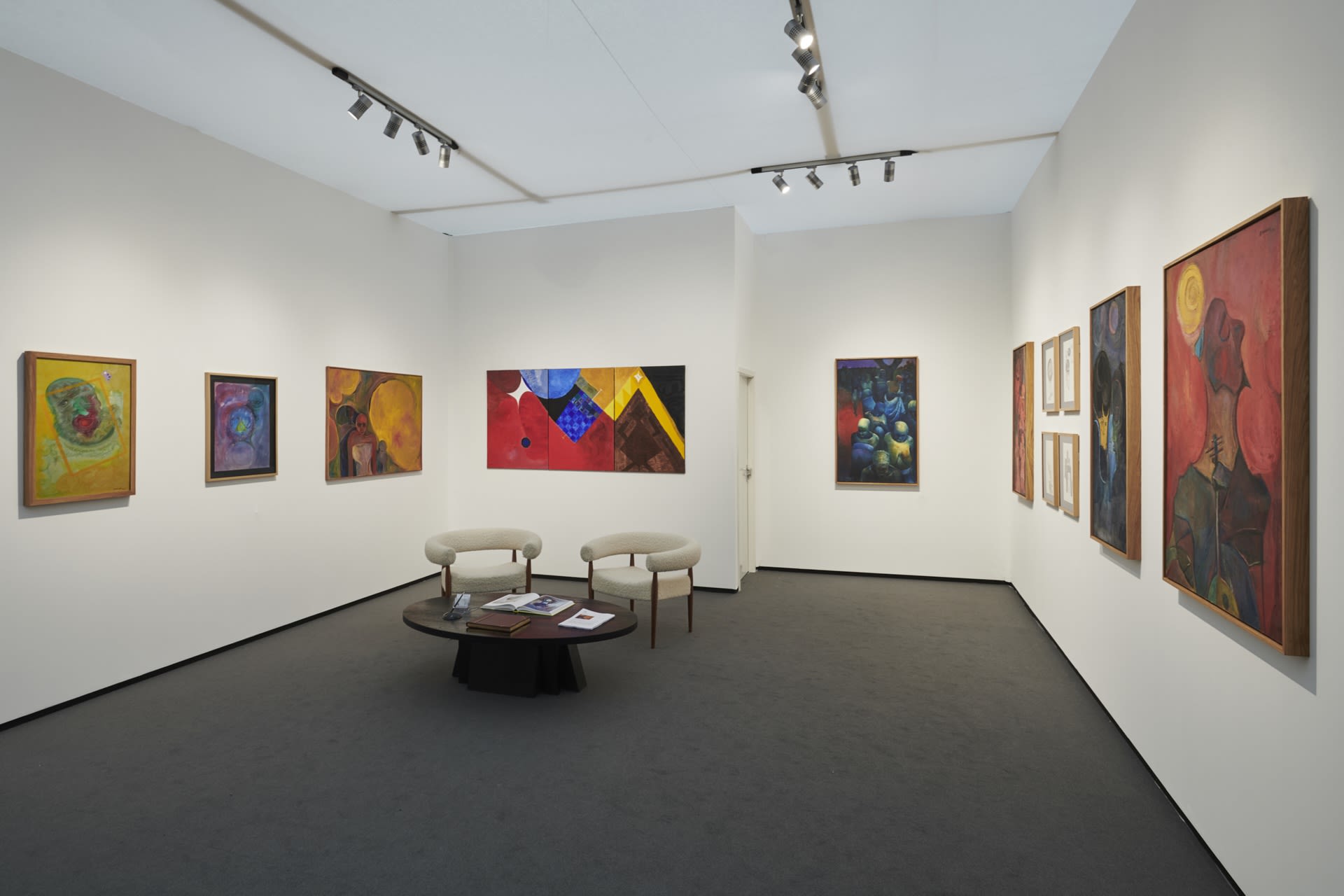 ABOUT THE ARTIST
Born in 1946 in Onitsha, Nigeria, Obiora Udechukwu studied at Ahmadu Bello University for a year before transferring to the University of Nigeria, Nsukka, at the beginning of the Nigerian Civil War. During the war, he worked in the Propaganda Unit and participated in art and writing workshops. After completing his Masters degree in Fine Arts at Nsukka in 1977, Udechukwu taught in the art department for many years, eventually serving as a Professor of Painting. He is a founding member of the AKA Circle of Artists. As the head of Nsukka's art department, Udechukwu mentored a generation of artists and art historians, including Tayo Adenaike, Olu Oguibe, Chika Okeke-Agulu, Marcia Kure, Ndidi Dike, Ozioma Onuzulike and Sylvester Ogbechie. In 1997, Udechukwu became a Professor of Fine Arts at St. Lawrence University in New York, where he served until his retirement in 2018. Udechukwu is now based in Carson, California.

Udechukwu has presented over twenty-five solo exhibitions in Nigeria, England, Zimbabwe, Germany, and United States. His work has been featured in seminal exhibitions of modern and contemporary African art, including The Poetics of Line: Seven Artists of the Nsukka Group at the National Museum of African Art of the Smithsonian Institution in Washington, D.C., and Seven Stories About Modern Art in Africa at Whitechapel Gallery.

Udechukwu's work is included in the collections of The National Gallery of Modern Art (Lagos); Smithsonian National Museum of African Art, Washington, DC; Newark Museum; the Hood Museum at Dartmouth; Centre for Cultural Studies, University of Lagos; Iwalewa-Haus, University of Bayreuth, Germany; Museum fur Volkderkunde, Frankfurt/Main, Germany; Bradford City Museums and Galleries, Bradford, England; and National Council of Arts and Culture, Lagos.