Nnenna Okore

Nigeria,

b. 1975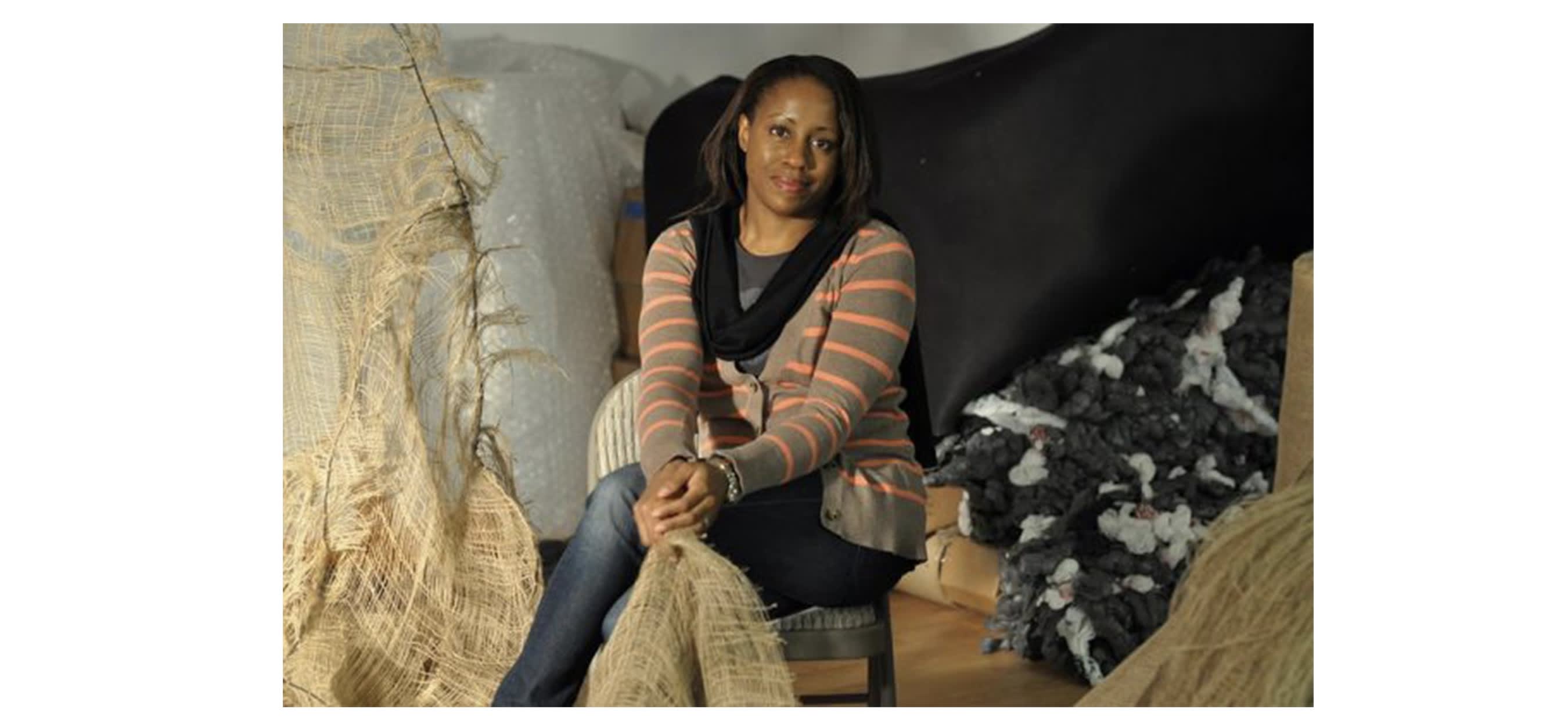 Nnenna Okore creates sculptures and installations that combine natural and discarded materials to create abstract forms.
Working with the processes of weaving, sewing, twisting and dying, her work is often inspired by the visual characteristics of Eastern Nigeria. Okore focuses on concepts of recycling, transformation and regeneration of forms based on observations from ecological and manmade environments. These biomorphic formations often examine her dual Nigerian and American identity.
Nnenna Okore was born in Australia, raised in Nigeria, and works between the United States and Nigeria. Okore spent most of her childhood in Nsukka, where her parents worked as academics at the university. Throughout her career, she has focused on ecological issues steeped in artistic practice, learning, and social engagements. Okore has been involved in numerous participatory art projects and exhibitions designed to produce dialogue, art-making, and an awareness of current environmental issues. In her most recent art project, she uses bioplastic made from food waste and environmentally friendly materials to create new works of art. Okore, who is passionate about generating dialogue on environmental issues, is involved in numerous collaborative environmental projects across Nigeria, Australia, and the United States.
Nnenna Okore is a Professor at Chicago's North Park University. She earned her B.A degree from the University of Nigeria, Nsukka (First Class Honors) in 1999, and her MA and MFA at the University of Iowa, in 2004 and 2005 respectively. Okore is a recipient of the Fulbright Scholar Award in 2012. Her works were featured in important exhibitions at the Museum of Art and Design, New York; Tang Museum of Art, Skidmore College, NY; Museum of Contemporary African Diasporic Art, New York; Spelman Museum of Fine Art, Atlanta; Museu Afro Brasil, Sao Paulo, Brazil; Memphis Brooks Museum of Art, Memphis and Samuel Dorsky Museum of Art, NY, and Musée des Civilizations Noires, Dakar, Senegal. Okore's iconic work
And the World Keeps Turning
was exhibited at the Brugge Triennial in 2021. She also recently participated in the
Stoa169 Columned Hall
exhibition in Polling, Germany, and the exhibition I
nvincible Hands
at the Yemisi Shyllon Museum of Art, Lagos.